We constantly add new features, make improvements and release new products to make YoloCast a cloud live streaming platform you all love! Get started for free: https://dashboard.yololiv.com/user/login

Latest New Features
You Got Options for Past Events (Released on 2022/10/27)
There're many new options added to YoloCast past events, including:
Edit Event (Edit the event including title, description, thumbnail, branding, destinations, etc)
Copy Link (Directly copy the event link, or add parameters for a specific channel)
Share to Social (Support share the live events to Facebook and Twitter)
Embed (Directly embed one or multiple live events to your website)
Analytics (Access the event reports directly)
Replace (Replace the live event with a video in the Media Center or by uploading a local video)
Download (You can opt to download the video or simply the audio of the live event)
Delete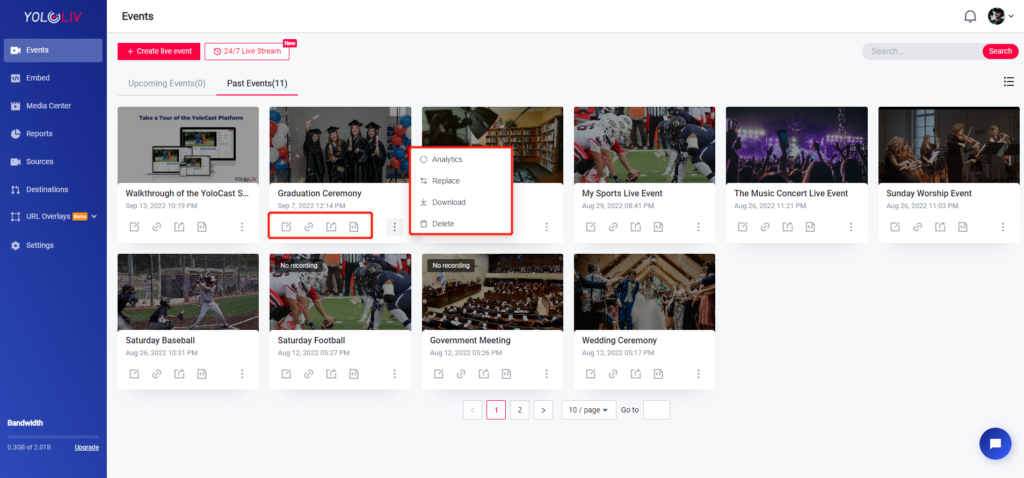 24/7 Live Stream (Released on 2022/10/24)
YoloCast released the 24/7 Live Stream, which means you can live stream continuously without a stop. Organizations and businesses of all sizes and industries can use continuous streaming to pique the audience's interests, improve the brand's image, and start a new stream of revenue.
Here is how to create a 24/7 Live Stream:
YoloBox as Video Source: Copy the RTMP URL and Stream Key in the 24/7 Live Stream and paste them to the RTMP setup under "Destination". Then you can push videos from YoloBox to YoloCast.
2. Other Encoders as Video Source: Add the RTMP or SRT information to the stream option on the third-party encoders as the video source.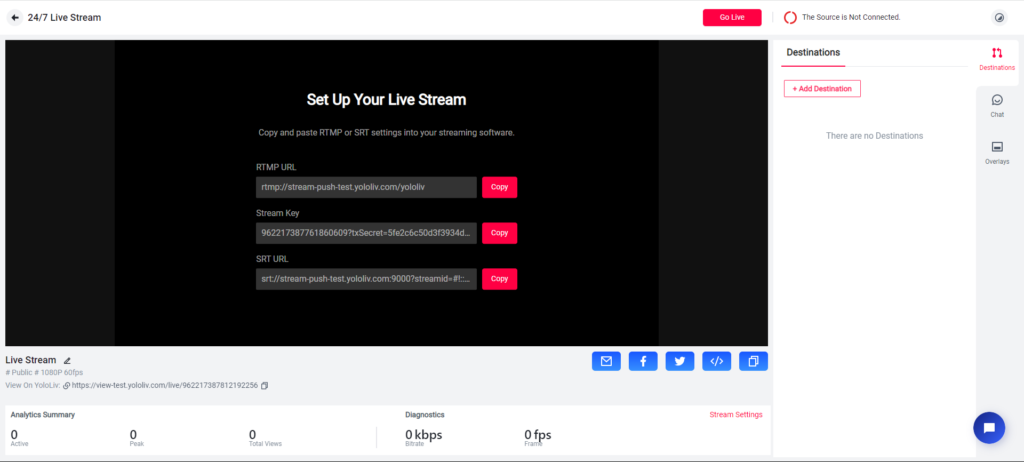 Please note: The 24/7 live stream is only available in the Business plan. Video recordings and viewers reports are not available yet for 24/7 live streams
Bandwidth & Storage Upgraded (Released on 2022/10/20)
Great news for those who're on the fence about subscribing because of the bandwidth or storage – YoloCast Bandwidth and Storage upgraded for all plans.
Standard Plan: 500GB bandwidth, 1TB Storage(vs 128GB bandwidth, 50GB Storage before)
Professional Plan: 1TB bandwidth, 2TB Storage (vs 512GB bandwidth, 500GB Storage before)
Business Plan: 2TB bandwidth, 7TB Storage (vs 1024GB bandwidth, 1TB Storage before)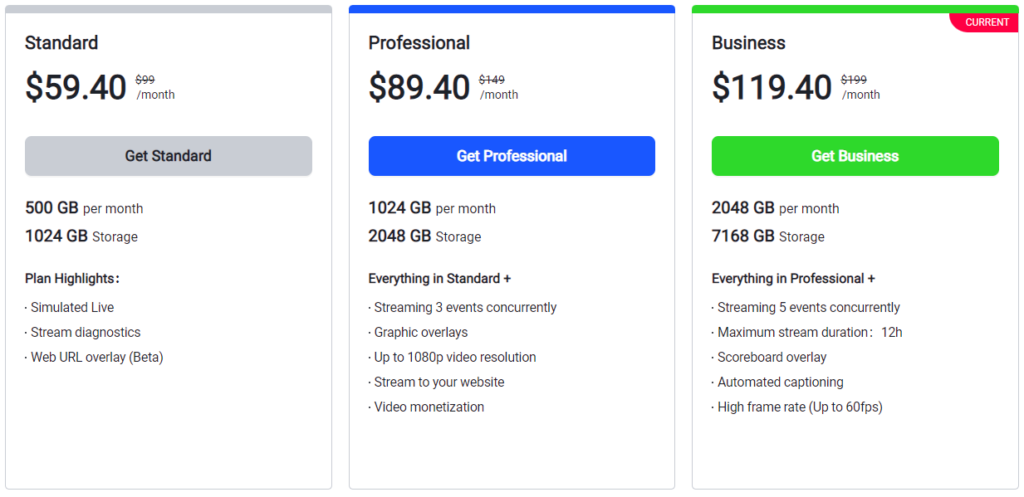 To learn more about YoloCast Plans, please visit: https://www.yololiv.com/compare-plans
Bandwidth Calculator (Released on 2022/10/20)
Have no idea which plans to choose? YoloCast makes it easy by providing a Bandwidth Calculator for those who don't know how much bandwidth they would consume. With this Bandwidth Calculator, you can easily understand which plan that best suits your needs for streaming.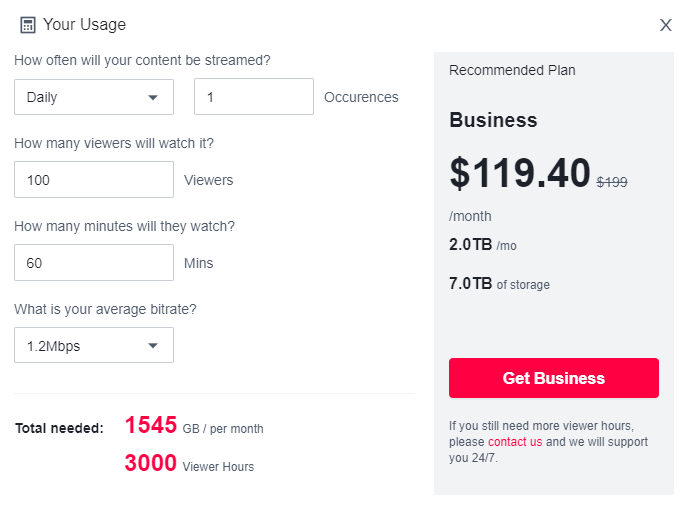 Live Stream a Playlist of Pre-Recorded Videos (Released on 2022/9/16)
First, let's figure out what it means. You queue recorded videos in any order and schedule them to go live sequentially. You set up the order of your playlist in advance, and YoloCast can do the rest for you automatically. If you have lots of video files that you want to stream one after another, this is the feature that you cannot miss out.
Select Media Video (Simulated Live) as your video source, and then choose up to 10 videos as a playlist for live streaming. Click "Done" when you finish. You can also delete, add new videos, drag and drop your videos in the desired order for your playlist.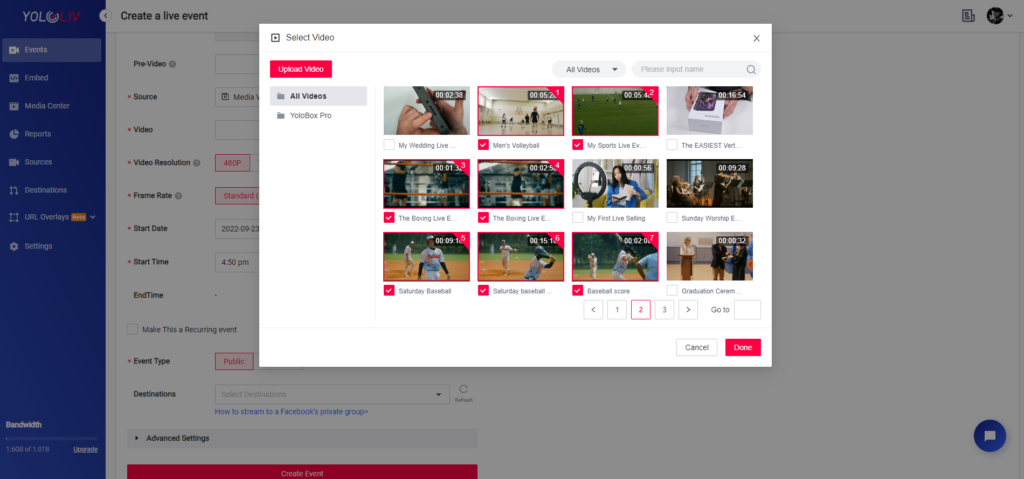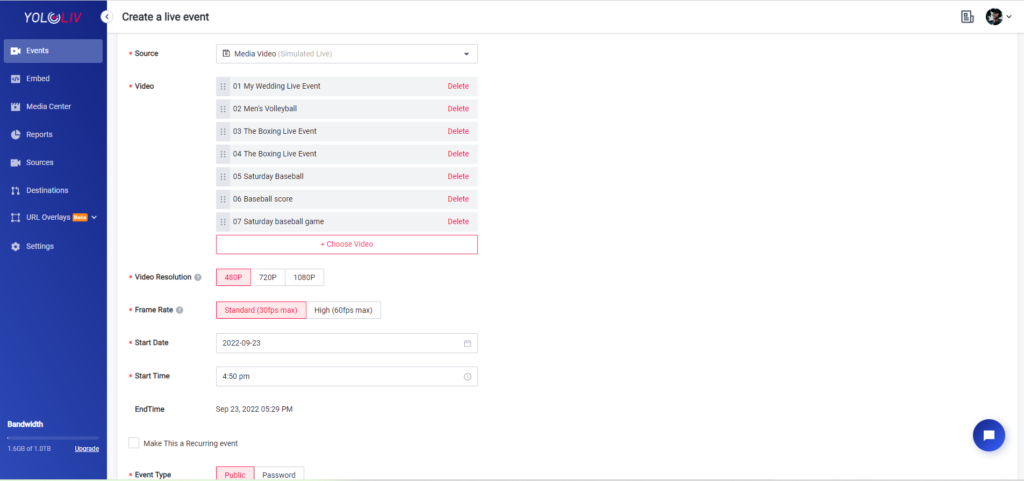 Quick Create Live Event with Videos in Media Center (Released on 2022/9/16)
For those who live stream with a video in Media Center, we have a quick option for you. No need to create a live event step by step. Simply go to Media Center > Choose a video > Select "Create Live Event", a live stream event is created instantly with all settings in default.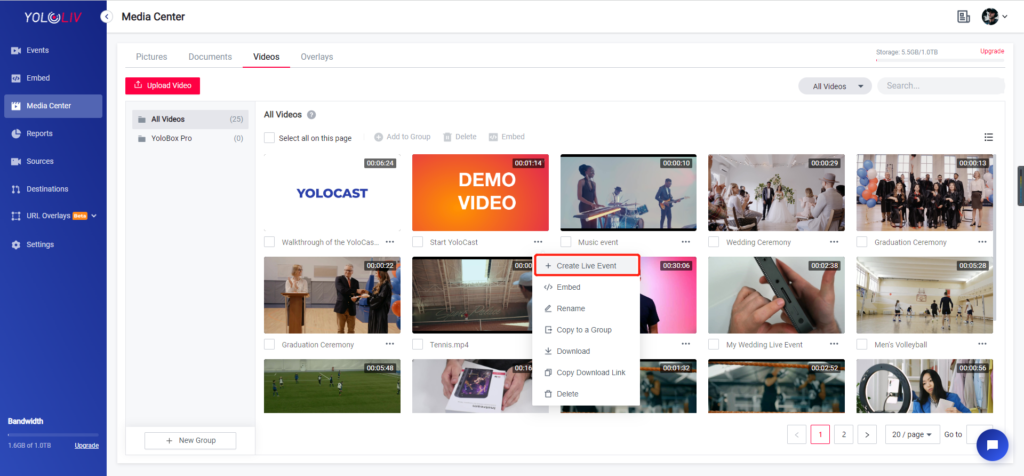 You can click on the pencil icon next to the event name, and edit all the default settings.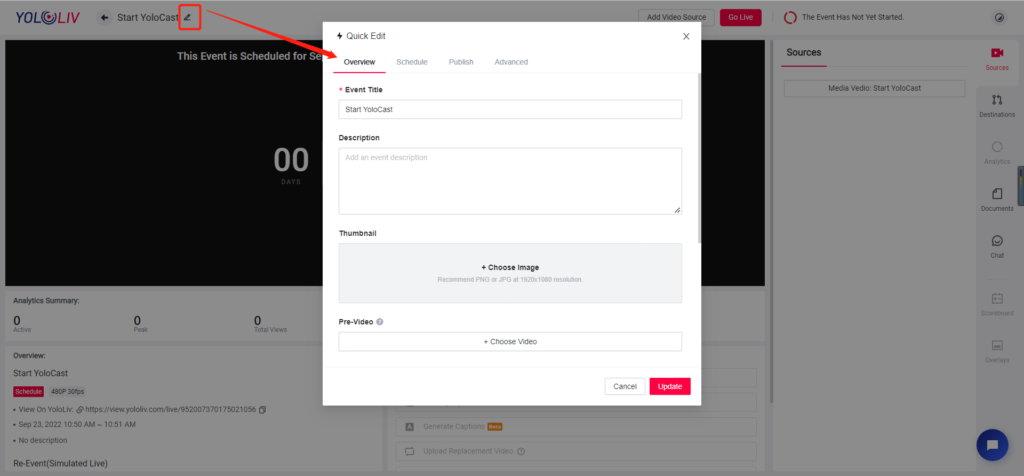 Download Link for Videos (Recorded Video, Highlight Clips, Media Video)
"I finishes the stream, uploaded a replacement video, and looking how the client can download the video." For those customers who ask how to create a download link from a recorded video, here comes the feature. Just go to Media Center, choose the video and click "Copy Download Link", then you can share with anyone you like.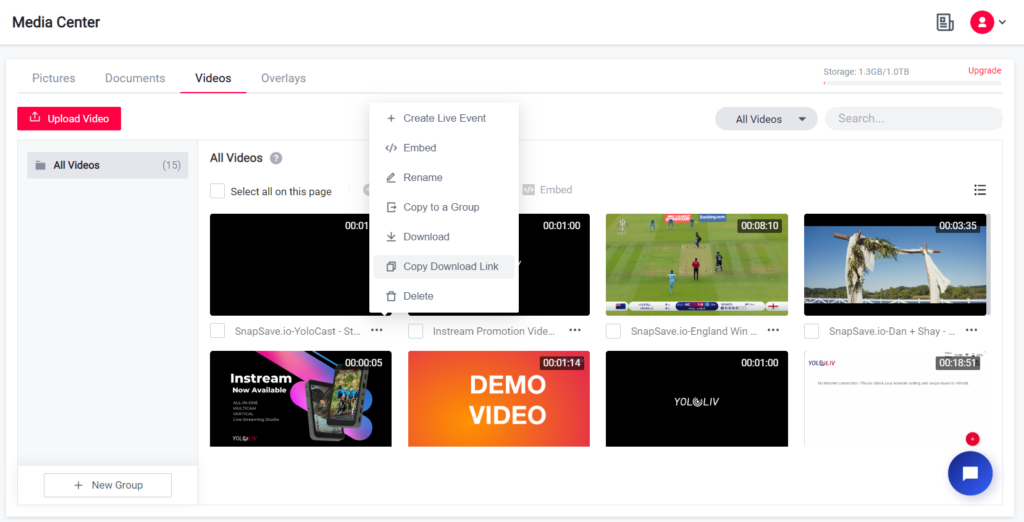 Embed Videos in Media Center to Your Website (Released on 2022/8/15)
A simple way to embed your recorded videos, highlight clips, and uploaded local videos on your website. Choose one or more videos, click "Embed", and then copy & paste the code to embed them on your website.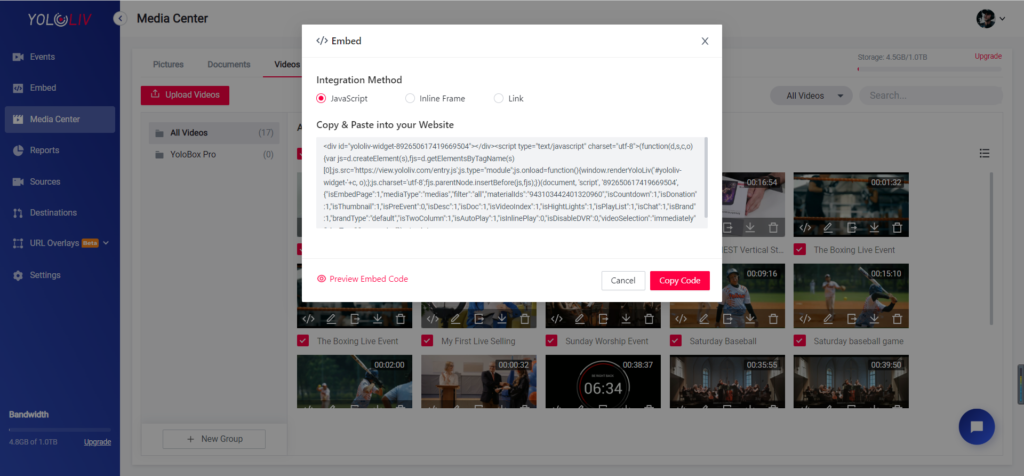 Insert Video to Your Live Stream (Released on 2022/7/28)
You can now insert a video, be it an advertisement, sponsor video, promo video, or an introduction to your live stream while it's live.
YoloCast Now a Destination on YoloBox (Released on 2022/7/26)
YoloCast makes it easy to live stream from a YoloBox. Without complicated and time-consuming RTMP setup, just choose the destination "YoloCast" on YoloBox and go live, the video will automatically appear on YoloCast. See how to live stream from YoloBox to YoloCast, visit: https://www.yololiv.com/blog/the-easiest-way-to-live-stream-from-yolobox-to-yolocast/
Online Graphic Overlay (Released on 2022/7/5)
YoloLiv's own online graphic overlay platform is now built-in on YoloCast. That means, you can generate various graphic overlays including scoreboards, lower-thirds, social overlays, animated countdown timer overlays and more. See how to use it for more professional live streaming, please visit: https://www.yololiv.com/blog/how-to-create-web-url-overlays-on-yolocast-beginners-guide/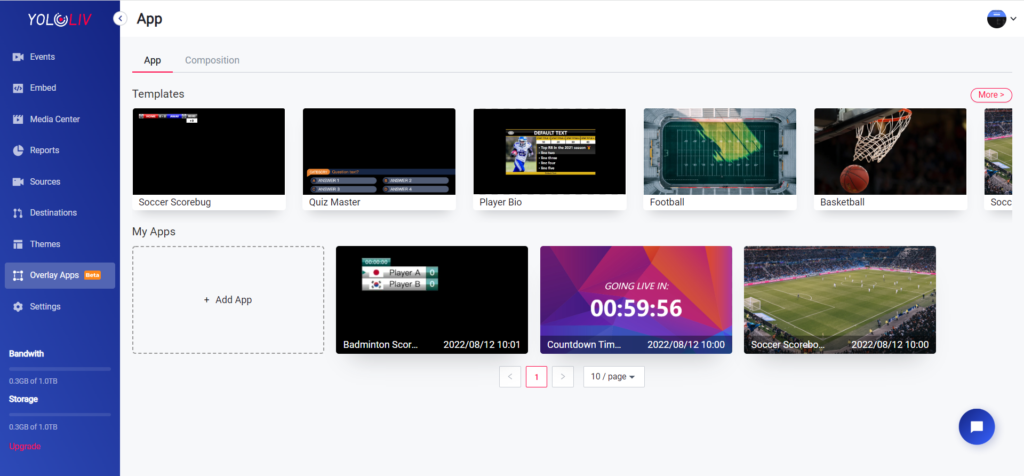 Announcements
Refer + Earn – Join YoloCast Referral Program (Released on 2022/8/28)
Do you know someone who's looking to live stream? If you send them our way and they become a YoloCast customer, you'll get 10% commissions and can withdraw directly to your Paypal.
How It Works:
Invite a Friend: Copy and share your unique referral link and invite your friends to sign up YoloCast.
Subscribe to a Plan: The user referred by you subscribed to any YoloCast plan.
Commission Credited: The commission will be placed in the referrer's YoloCast account 30 days after the referred purchased a plan.
In order to qualify for this program:
The referrer must be a YoloCast user, and the referral must be a new YoloCast user.
Once the referral successfully subscribes to a YoloCast plan, the commission will be placed in the referrer's YoloCast account and can be withdrawn in the next month. If the referral refunds within 7 days, the commission will be forfeited.
In the event that more than one person or organization refers the same third party, credit will be given to the person or organization whose referral link was used for signing up.
10th of each month is assigned as the date for commission withdrawal. All commissions can be withdrawn except for the commissions obtained in the current month.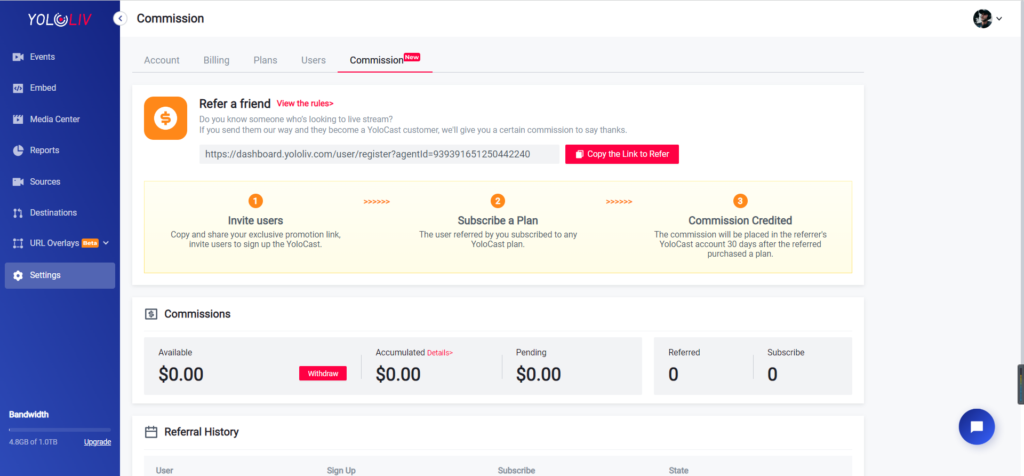 YoloCast Is Now Free to Use (Released on 2022/8/23)
YoloCast 14 days free trial is extended! You can still use it for free even though the free trial is over, but please note that the streaming duration is limited to 10 minutes. To upgrade, please go to settings > Choose a plan > Pay with 40% OFF (Use Promo Code "YOLOCAST")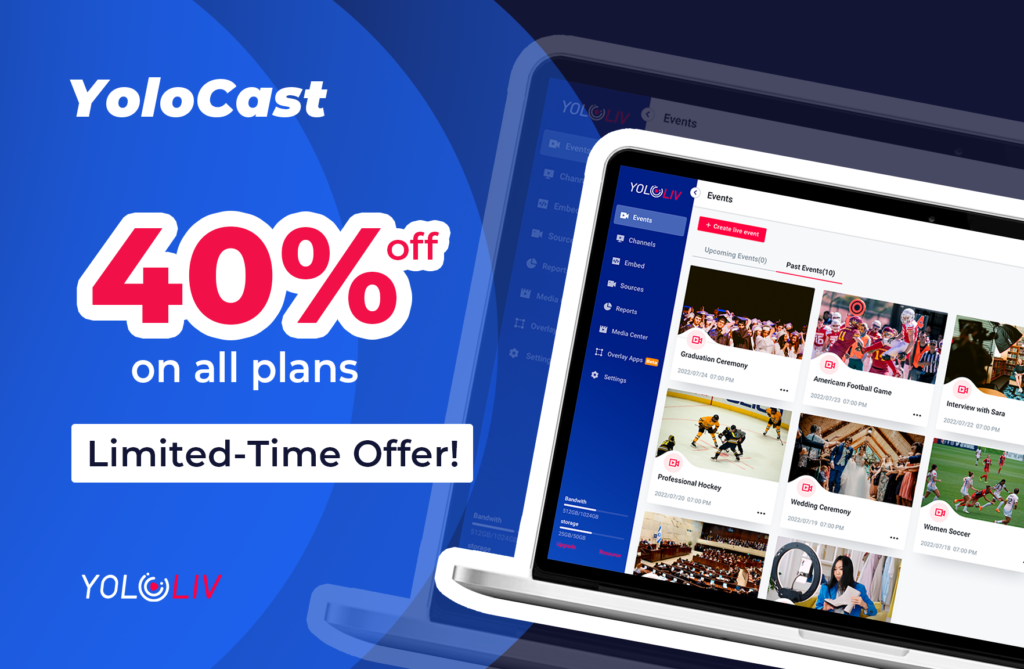 Didn't get a chance to try it out? Get started for free now: https://dashboard.yololiv.com/user/login
Have no idea how to get started? Contact us now at contact@yololiv.com
To know more tips, tricks and product updates about YoloCast in time? Join our Facebook Community.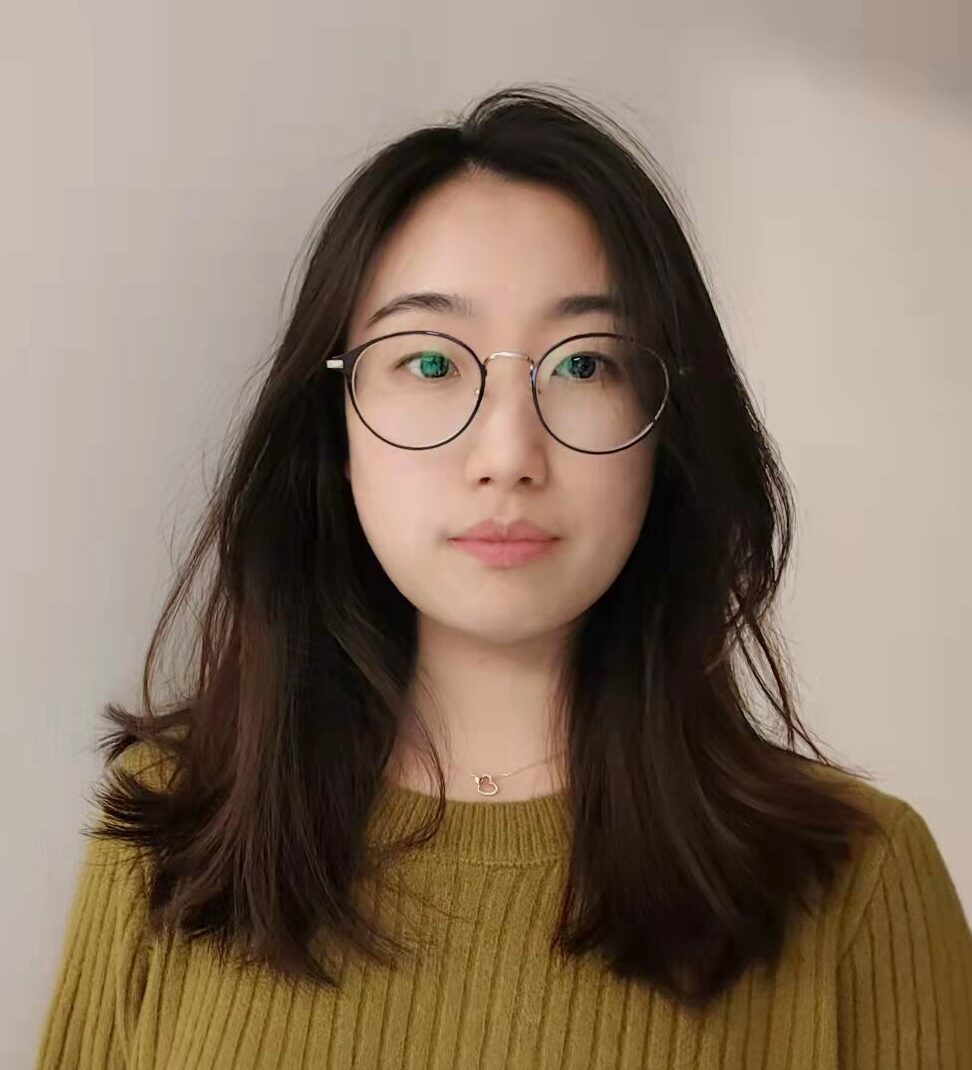 As product operation manager at YoloLiv,  Esther and her team stay focused on our customers' needs and constantly push forward new updates for YoloBox and Pro. Also, she contributed some blog posts from perspectives on how to enhance live streaming experience, live streaming sop for newbies, and more.