What Is An Automated Caption And Why?
What is an automated caption? To explain first, the caption is a title or brief explanation appended to an article, illustration, cartoon, or poster. In the live stream, it's an overarching term referring to the time-stamped transcript of a video. And with the mechanical condition, you do not need to edit things to have the captions for your video. The automated captions offer a viewing experience that is accessible to and enjoyable for as many people as possible, while usually there is the option to turn it on/off for different needs.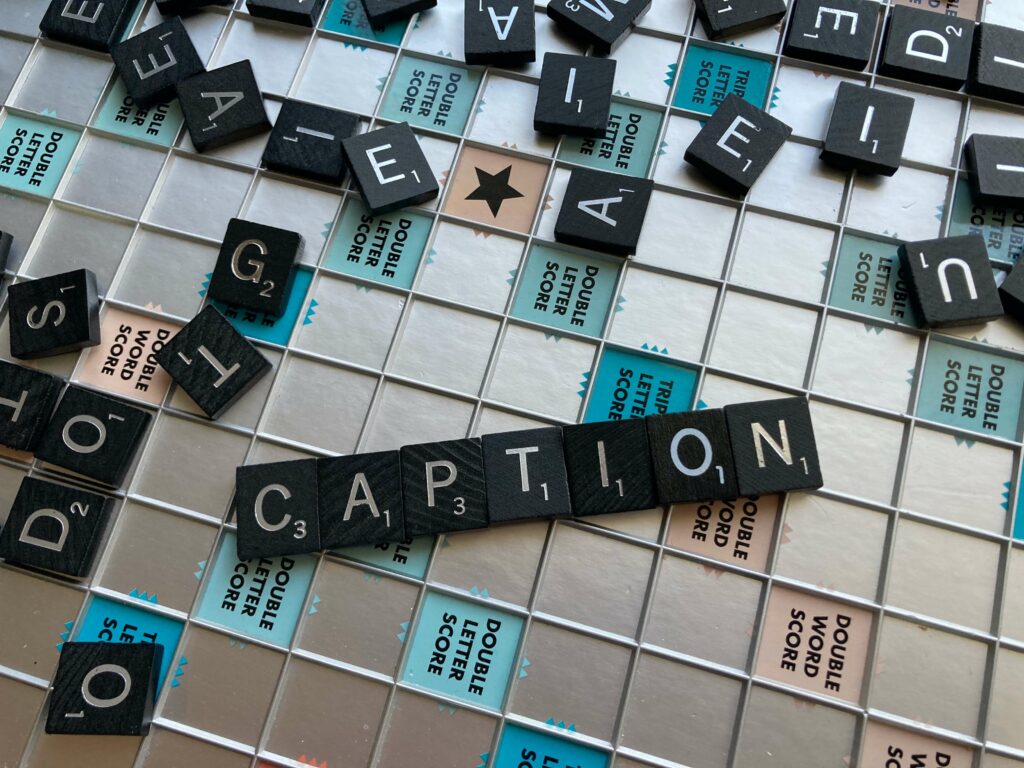 Broadcast transcription can be complicated, time-consuming, and expensive. Subtitles are powerful for expanding your audience, driving engagement, and increasing viewer retention.
Automated vs. Manual Captioning
Think back to the captions you've seen on the TV or in movies. Those are pre-edited manual captioning types by the professional team which takes time to form and arrange the timeline.
While nowadays, AI and machine learning developments have finally lowered the threshold for the personal use of captioning. The software can now interpret live streamed audio and deliver live captions perfectly in sync with the audio. Individual content creators finally have the chance to reduce the work of adding captions for their video via the software instead of manual captioning.
Adding Automated Captions in Different Platforms
Youtube
YouTube states: "Live automatic captions are slowly being rolled out to predicted English channels with over 10,000 subscribers. After the live stream ends, live automatic captions will not remain and automatic captions will be generated based on the video on demand (VOD) process. LASR is specifically for an in-progress live stream."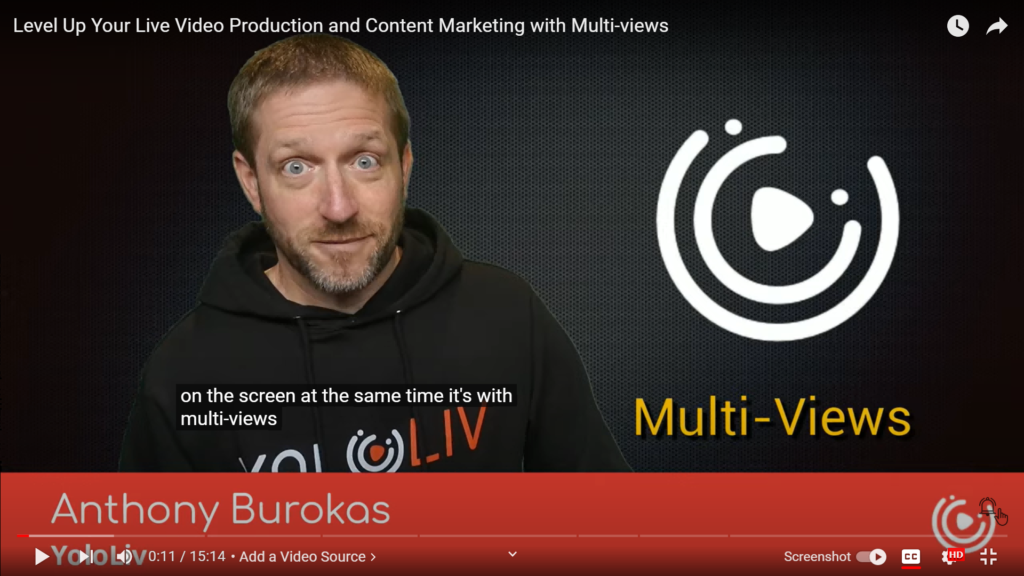 But here are also some notes provided by Youtube for the automated captions in live streaming:
The feature hasn't been turned on for the channel, as we're slowly rolling out to channels with more than 1,000 subscribers.
Channel is streaming in ultra-low or low latency (such as a mobile live stream). Live automatic captions are only available for normal latency streaming.
Automatic captions don't support the language in the video.
The video has poor sound quality or YouTube doesn't recognize the speech.
There are multiple speakers whose speech overlaps or multiple languages at the same time.
Facebook
On Facebook, the automated captions are easy to get. All you need to do is go to your public Facebook page and click on create "LIVE." This will take you to your Stream Set Up page. Go down to "settings" and click on "viewing," and make sure to turn on your "auto-generated captions. Once your Livestream is done, make sure to go back and check out and edit your captions for future viewing.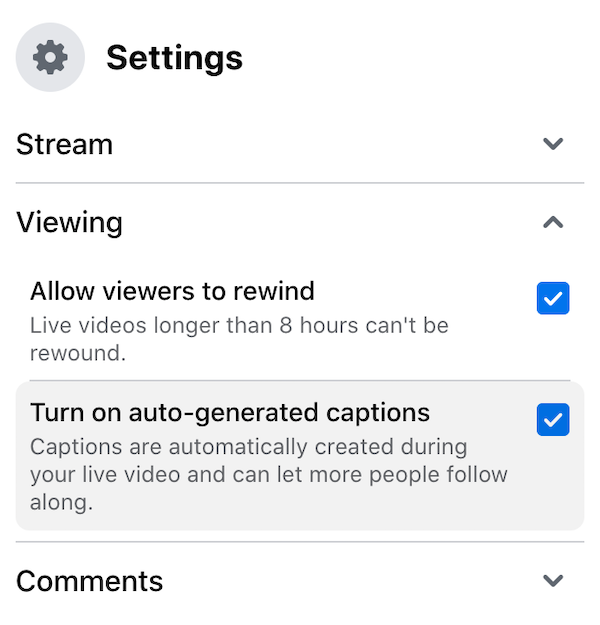 OBS
Closed captioning allows you to encode caption data into your stream, and viewers on streaming platforms like Facebook, Twitch, or YouTube can toggle the "CC" button in their players to optionally turn on captions.
Make sure you are using OBS Studio version 26.1 or later.
Download and install the OBS Websocket plugin (version 4.9.0 if on OBS 26.1 to 26.1.2, or version 4.9.1 if on OBS 27 or later).
Restart OBS if you currently have it open.
In OBS, go to Tools > WebSockets Server Settings.
Enable the WebSockets server and set the port number and password. The password is optional but recommended.
Go to the channels page in Web Captioner settings, select OBS Studio, and enter your server port and password from the last step.
Add the channel and start captioning as usual.
You won't see captions in OBS, but if you stream to a service like Facebook, Twitch, or YouTube that has a "CC" button, you can toggle captions on and off there.
YoloCast
YoloCast is a go-to live streaming platform that gives you more control than ever to deliver professional live videos and engage your audience. You can host, monetize and broadcast with a superior viewing experience. Please note that automated captioning is a Premium feature and is only available on the Business Plan.
How to Add Automated Captions to Your Live Stream
The main task we want to achieve is to make people join and start their own journeys that matter to them. And we hope everyone in the team can enjoy the experience. Under this consideration, YoloCast has supported automated captions for content creators with one click of a button.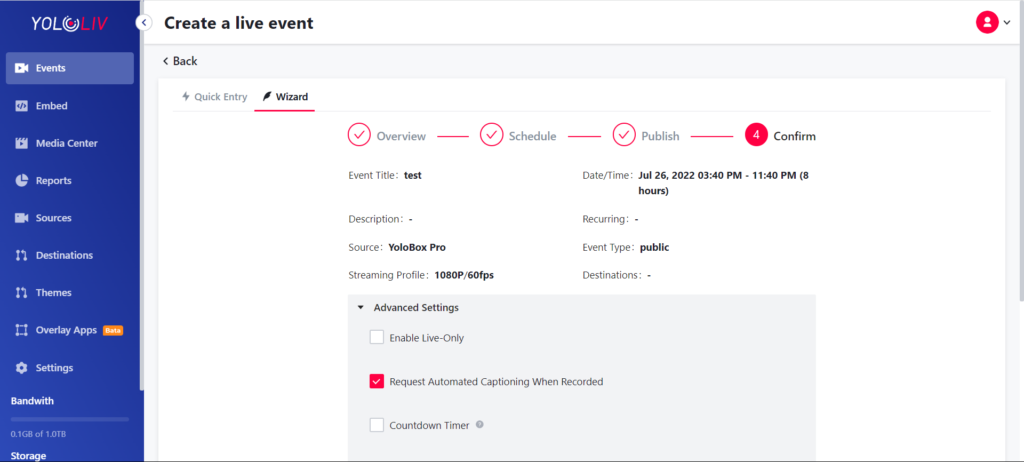 In YoloCast, everything is simple. You could find the "Request Automated Captioning When Recorded" option while creating a new event. Click it and the replay would have the automated captions.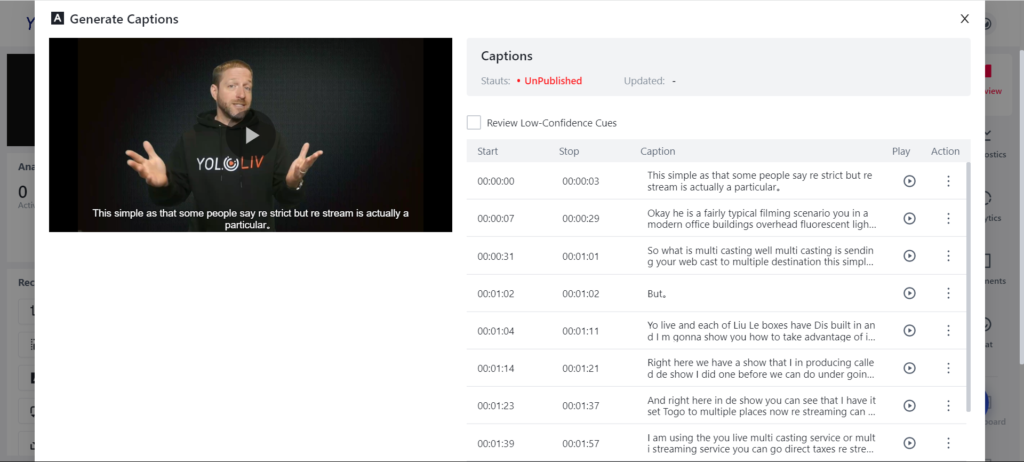 After the stream is finished, you can click the Past Event to find the replay. The Generate Captions option is available now on the bottom left of the page. Here you can modify the automated caption since the software may also have many mistakes. It also supports downloading the captions for further repurposing of the events you made.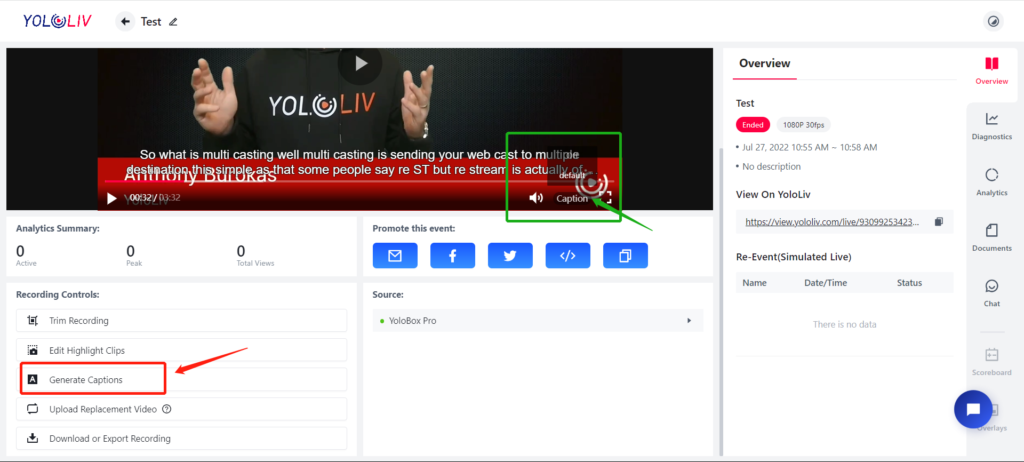 After checking the original captions, you can then click the published button to make these appear on the replay. The player would offer the Caption button at the same time to turn on/off the words you can see.
Wrap Up
The automated captions can benefit and bring the live stream to another level. YoloCast's powerful cloud automatically transcribes your live stream's spoken words into readable text and allows all viewers to follow along and never miss a message.
Wanna know what else you can do with YoloCast, please visit https://www.yololiv.com/yolocast-overview. Have no idea which live streaming plans work best for you? Please visit https://www.yololiv.com/compare-plans.
We're now offering a 14-Days Free Trial for all. If you need a live streaming cloud platform or are looking for an alternative, be sure to try YoloCast. Log in at https://dashboard.yololiv.com/user/login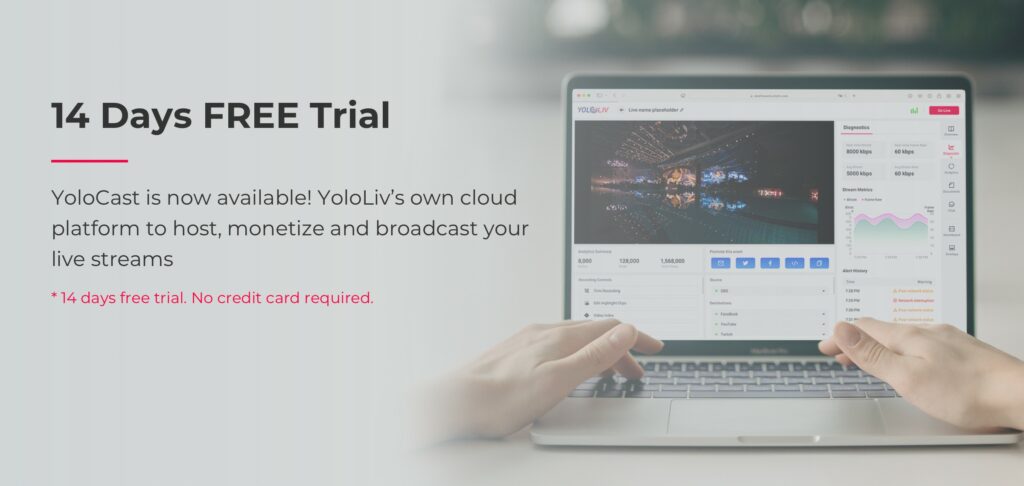 Cerise is a support specialist at YoloLiv with three years of experience working as a Customer Support Specialist in the consumer electronics industry. She also produces articles including video productions, tips and tricks and expert knowledge in the audiovisual industry.