Streaming setups consist of various components, all of which are crucial. However, the streaming encoder is particularly important. In fact, without it, you won't be able to stream anywhere.
In this blog, we will discuss the strengths and weaknesses of streaming encoders. Let's find out which streaming encoder works best with your live streaming plan.
What is a video encoder?
A video encoder is a device that converts a raw video file, such as a digital video camera recording, into a compressed digital format. While maintaining high quality, video encoding minimizes the size of the video file. This is critical for a variety of applications, including live streaming and online conferencing. 
Common video encoding formats include H.264, MPEG-2, and HEVC (High Efficiency Video Coding), which are widely used for different applications and devices.
Usually, video encoders fall into two types: software encoder and hardware encoder. So, what's the difference between the two? How do they work? Let's take a closer look!
Software encoder
A software encoder runs on a computer or mobile device and uses software to encode a video file. With greater flexibility and versatility, it can be used on any device with sufficient processing power and memory. Capturing your audio and video inputs, then deliver them to platforms like YouTube, Facebook, and Twitch. 
There are many software encoders available, ranging from basic tools for home users to professional applications used by media companies. Here're some examples of popular software encoders include OBS Studio, vMix, and Wirecast.
OBS Studio: A free and open-source software encoder used for live streaming and recording.
vMix: A professional video production software that offers a wide range of features for live streaming, recording, and editing video content.
Wirecast: A professional encoder used for live streaming and production. It has multiple features such as multi-camera switching, graphics overlays, and scoreboards.
Hardware encoder
Hardware encoder uses dedicated chips or processors to perform the encoding, as an independent device. It is often used in professional settings, such as live streaming and broadcasting. You can directly connect to multiple cameras with a hardware encoder. 
For example, YoloBox Pro, the industry's first REALLY all-in-one live production system, doesn't require anything external. It can stream simultaneously to multiple destinations like Facebook, YouTube, and any other RTMP(S) websites. With the built-in battery and 4G, you can use it to stream from anywhere to everywhere.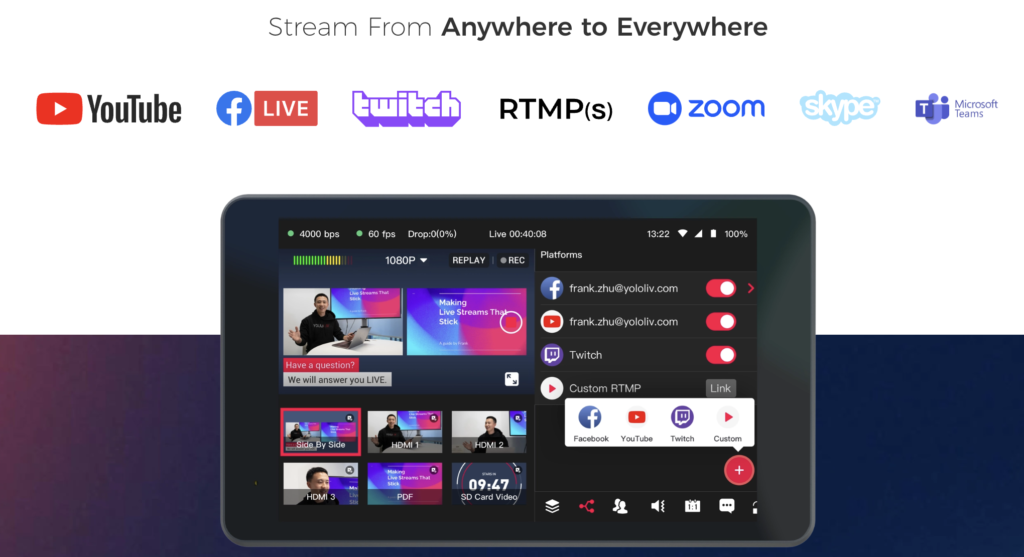 Which is the best encoder for streaming?
Many people may be wondering "Which is better for my live streaming?" The truth is the two types of encoders are fundamentally different from one another. Each of them has advantages and disadvantages of its own. So, let's dive into this part.
pros and cons of software encoder
pros:
Cost-effectiveness: generally it is less expensive than hardware encoders, and usually has monthly paid solutions.
Compatibility: It is compatible with a broad range of devices and platforms, making it accessible to large users.
Software updates: It is easy to add new features by updating the software.
cons:
Quality: it may produce lower-quality output than hardware encoders, particularly when encoding at high bitrates or using complex encoding settings.
Reliability: it is more prone to errors or crashes than hardware encoders, particularly if the computer running the software encoder is under heavy load.
Resource-intensive: it requires a powerful computer with plenty of RAM and processing power to achieve optimal performance.
pros and cons of hardware encoder
pros:
Reliability: You don't need to worry about the screen freezes of your laptop and losing your data.
Efficiency: Performing and encoding much faster than software encoders, resulting in lower CPU usage and better overall performance.
Quality: it can produce higher-quality output than software encoders, particularly when it comes to video encoding.
Lower Latency: it is specifically designed to minimize latency and provide real-time encoding. This makes them ideal for live streaming applications where low latency is essential.
cons:
Upgrade challenges: Upgrading a hardware encoder is more difficult than upgrading software. It may require the addition of new hardware components or the replacement of the entire unit.
Cost: It comes with a high cost, especially for professional-grade models.
Limited customization: It has limited customization options, and users may not be able to fine-tune the encoding parameters to achieve the desired output quality.
Which is the best?
According to all the pros and cons we mentioned above, is there a product that can bring together the good and fix the bad? Excited to present our product, YoloBox Pro, a game changer in the live streaming industry. 
It not only retains the strengths of usual hardware encoders but also has constantly upgrading software. Premium features are FREE in YoloBox Pro, like chroma key, graphic overlays, inviting guests, instant reply, video cropping, and more. For example, you can use the built-in graphics to add logos, lower thirds, countdown timer ovelays, making your live streaming more professional.
YoloBox Pro also allows you to change colors, fonts, and sizes instantly. A number of multi-view functions are also built-in, including PIP, Side by Side, Split View, News Layout, and Triple View.
With the SD card slot, you can also add video sources, customized overlays, and PDFs from your SD cards. YoloBox Pro can fit into your backpack of its compact size. Designed with a touchscreen, you can do production at your fingertip, super easy to operate. It's simple, portable, reliable, and affordable. 
Conclusion
In conclusion: software encoder works well only in low-stress productions. For people who want professional live streaming, hardware encoder is a better choice.
As coming to the end, you now have a better understanding of the two types of encoders and their differences. If you're interested in exploring the potential of encoders further. YoloBox Pro will always be your go-to option! With its powerful hardware and constantly upgrading software, YoloBox Pro will take your live streaming to the next level. 
For more information and product tutorials, please check our official YouTube channel. Also, don't forget to subscribe to our Facebook and Instagram for the latest setup inspirations and customer experiences.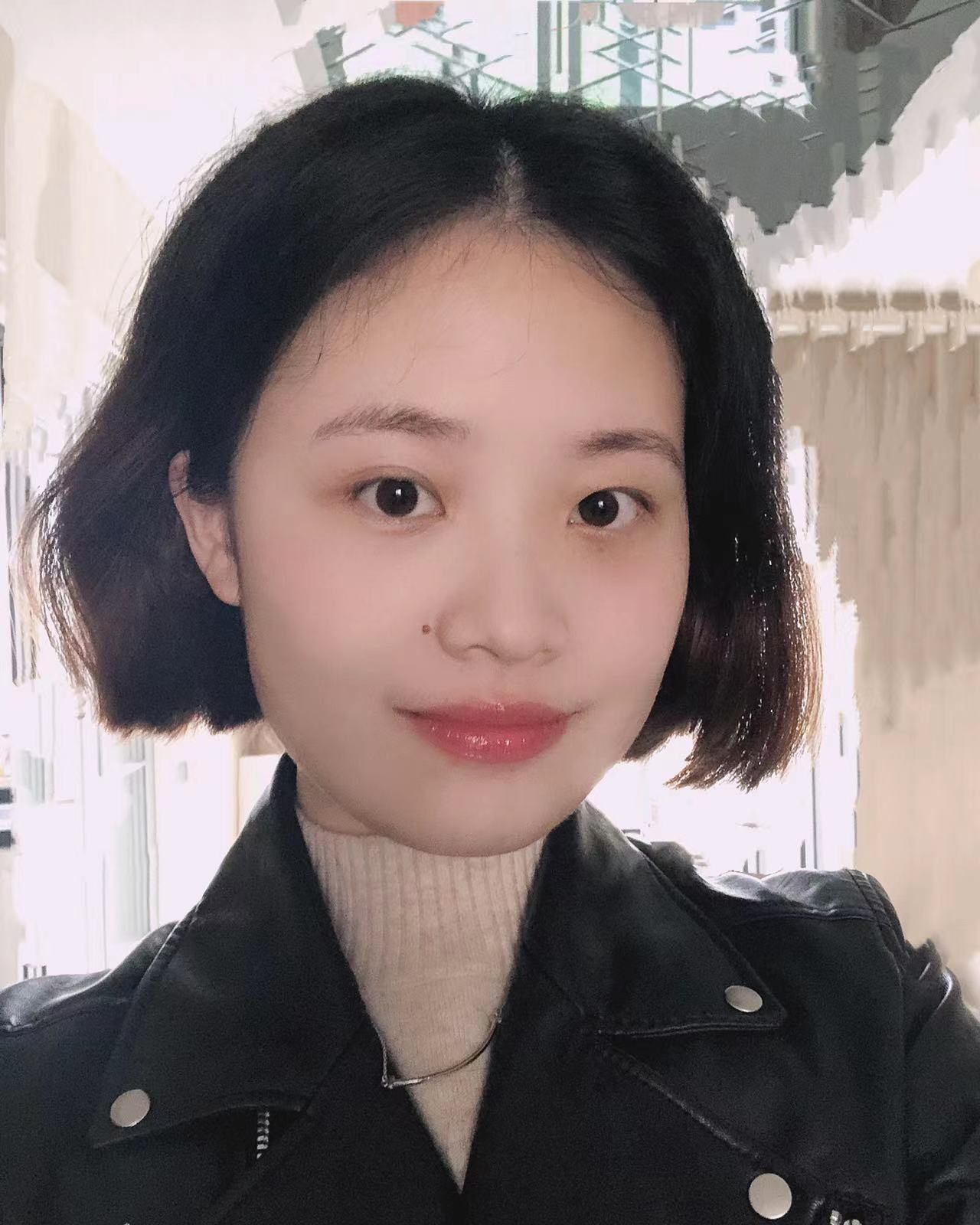 Meredith, the Marketing Manager at YoloLiv. After getting her bachelor's degree, she explores her whole passion for YoloBox and Pro. Also, she contributed blog posts on how to enhance live streaming experiences, how to get started with live streaming, and many more.