Introduction
YoloCast is an innovative live streaming service provided by YoloLiv. YoloCast offers a comprehensive platform for creating, hosting, scheduling, and monetizing live streams, providing content creators with greater control and an ad-free experience. In this article, we will provide a quick start tutorial, explore the various functionalities, and discuss how YoloCast can benefit your live streaming endeavors.
Quick Start Tutorial: Getting Started with YoloCast
To begin using YoloCast, visit yololiv.com and click on the YoloCast overview. From there, select "Start a Free Trial" to initiate the account creation process. Once signed in, you will be presented with the YoloCast interface, where you can configure and utilize different features.
Creating a Live Streaming Event
At the top of the menu, you will find the "Live Events" tab, where you can create your live streaming event. Here, you can enter a title, and description, upload a thumbnail, select the source of the live stream, define video settings, and specify the start and stop time for the stream. Additionally, you can choose additional destinations, including social media platforms. By default, the stream will be directed to any embedded players on your website.
Monitoring the Live Stream
After creating an event, you can access detailed information about your stream by clicking into the event. YoloCast allows you to monitor the incoming video stream from your YoloBox/Pro, a hardware encoding device. This enables you to ensure that the video is reaching YoloCast successfully before the event starts. Additionally, YoloCast provides countdown timers on your website's embedded players, allowing your viewers to anticipate the scheduled start time of the live stream.
More details: How to Monitor Your Live Video Stream Using Real-Time Analytics with YoloCast
Exploring YoloCast's Capabilities
YoloCast offers a range of powerful features that empower content creators to enhance their live streaming experiences. Let's delve into some of these functionalities:
Embedding a Video Player
On the "Embed" page, you can generate HTML code to embed a video player on your website. This player can display live streamed events or pre-recorded videos from your media center. You can customize the player's layout, including the display of details, comments sections, and logos. YoloCast also allows you to enable donations, adjust the player size, and choose different integration methods to suit your website's requirements.
Managing Media in the Media Center
The Media Center in YoloCast allows you to manage your live stream content. In the "Video" tab, you can access video files from your streams. You have the option to repurpose these videos by creating new live events or generating embed codes for individual video files. The Media Center also provides tools for file management, such as renaming, grouping, downloading, and sharing video files.
Simulated Live Streaming
YoloCast enables you to upload pre-produced video files and create simulated live streams. This feature is particularly useful for content creators who prefer editing their videos before broadcasting them. By selecting the video file as the source in the event configuration, you can schedule the simulated live stream and deliver a high-quality production to your viewers.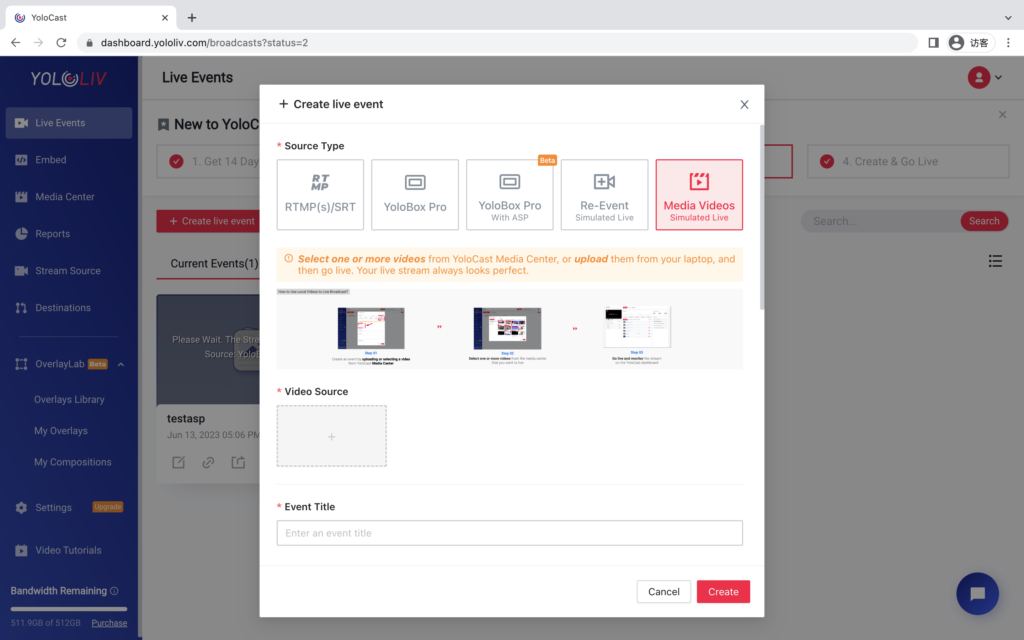 Utilizing Overlays and Graphics
YoloCast's Overlay feature allows you to upload images and overlay them onto your live stream. You can edit your overlays in "Overlay Lab". These overlays added can be controlled using the Event Viewer, enabling you to enhance the visual presentation of your live streams. You can use images as thumbnails, icons, or logos to brand your content and engage your audience effectively.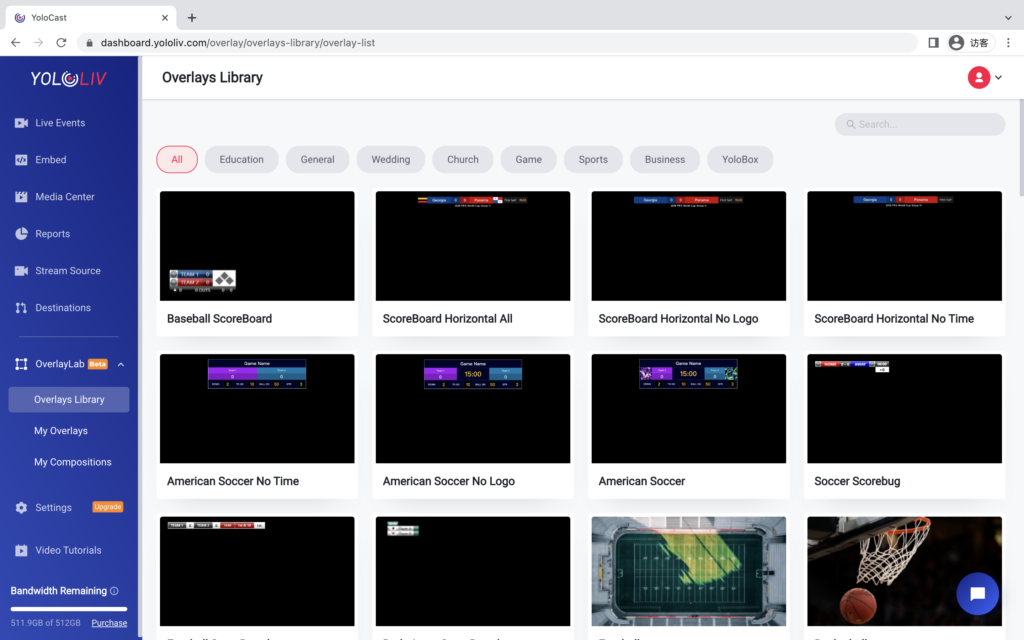 Adding Encoding Sources
While YoloBox is a convenient and default source for live streaming, YoloCast also allows you to incorporate other encoders as sources. Whether it's software encoders like OBS or hardware encoders, you can configure YoloCast to accept video streams from various sources. This flexibility ensures that you can seamlessly integrate your preferred encoding setup into the YoloCast ecosystem.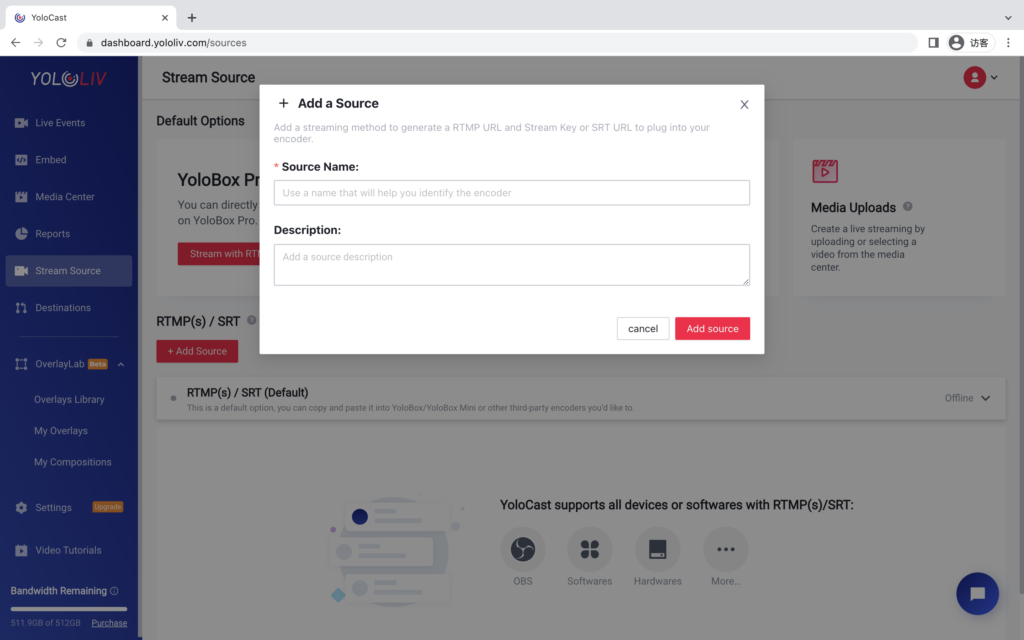 Highlights and Clip Creation
During your live stream, YoloCast's Event Viewer provides an intuitive interface to create highlights and clips. Within the Event Viewer, click the "Create Highlight" button to start capturing a highlight clip. You can name the clip, set the start and end points, and even add tags for easier categorization. Once created, the highlight clip will appear in the highlights tab. You can preview and edit the clip if necessary.
Seamlessly Switching between Live and Pre-Recorded Video
YoloCast allows you to switch from a live source to a pre-recorded video seamlessly during your live stream. To incorporate pre-produced content, add a video source in the Event Viewer and select the desired video file. You can instantly switch to the pre-produced content without interrupting the viewing experience. When ready to return to the live source, click the "Back to Live" button, and your stream will transition seamlessly back to the original source.
Post-Production Trimming and Archiving
After completing your live event, YoloCast provides options for post-production. In the Event Viewer, you can trim the recording to remove any unwanted portions, ensuring that your archived video is concise and polished. This feature is particularly useful if you experienced any downtime or pauses during your live stream. By adjusting the start and end points, you can create a streamlined recording that will be viewed by future audiences.
Leveraging Viewer Insights for Future Streams
YoloCast's analytics and viewer insights section on the "Reports" page provides valuable information about viewer engagement. You can access the total number of viewers and engagement breakdown by destination. Understanding viewer behavior and preferences can help you tailor your future live streams to maximize audience reach and impact. Analyzing these insights will enable you to deliver more engaging and targeted content in your next live events.
Conclusion: Elevate Your Live Streaming with YoloCast
YoloCast is a robust live streaming platform that simplifies the process of setting up, managing, and enhancing your live events. With features like concurrent streaming, multistreaming to various destinations, automated event scheduling, and powerful analytics, YoloCast empowers you to deliver professional-quality live streams with ease. Whether you're an individual, business, or organization, YoloCast offers a user-friendly interface and powerful tools to elevate your live streaming capabilities. Start exploring YoloCast today and unlock the full potential of your live events. Happy streaming!
 3,565 total views,  3 views today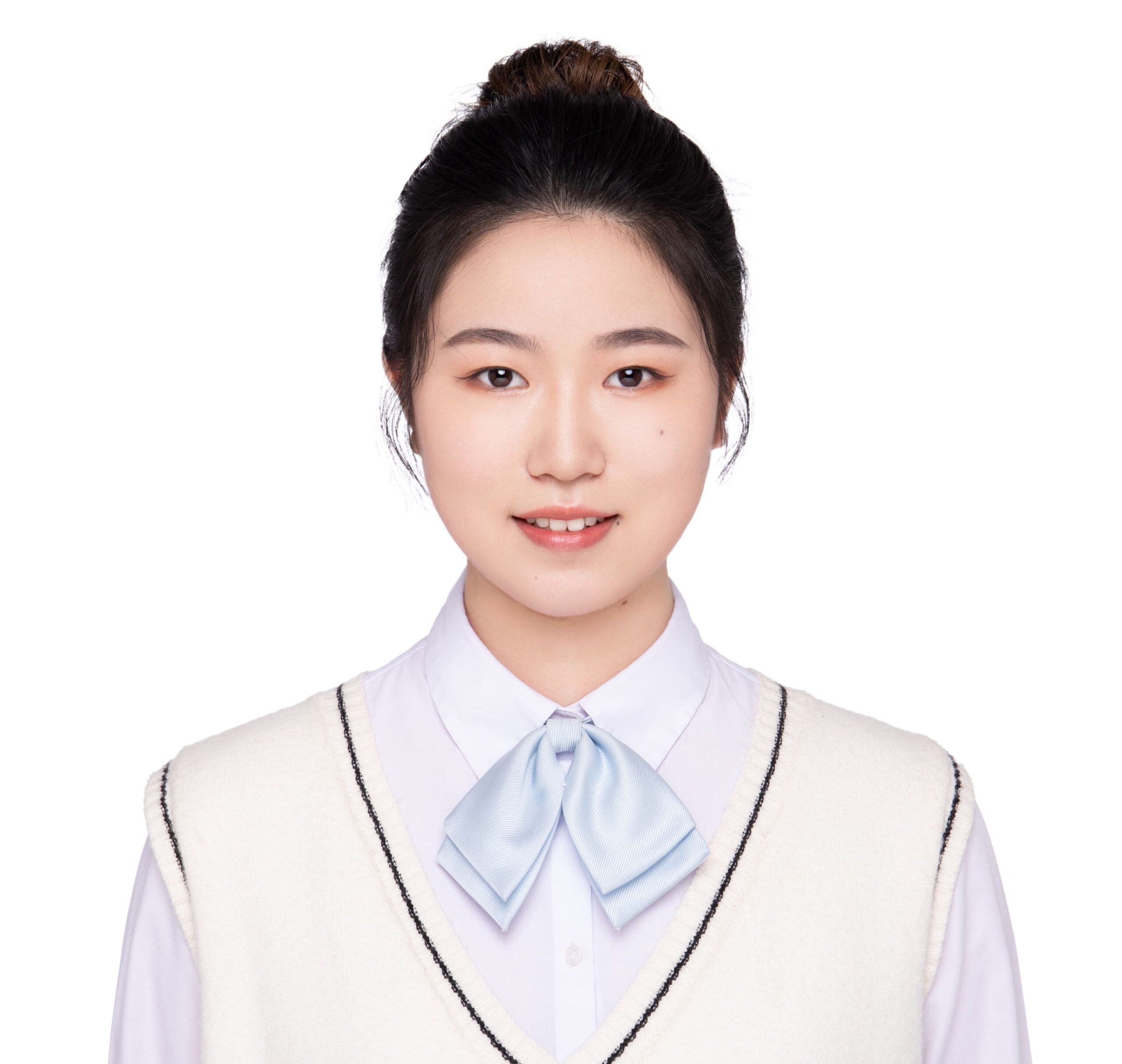 Hazel, the Marketing Specialist at yoloLiv. As an avid live-streaming enthusiast, She has dedicated countless hours to studying and immersing herself in this field. Her goal is to provide you with informative and engaging content that adds value to your streaming-related journey.